John and Karina Stewart created Kamalaya Wellness Sanctuary and Kamalaya Connect. Standing alongside them are nearly 350 hosts who collectively form the Kamalaya experience. We consider all our hosts to be an essential part of the whole, and are truly grateful for everything they do.
On this page, we focus on introducing you to some of the people and practitioners dedicated to supporting your health and personal development.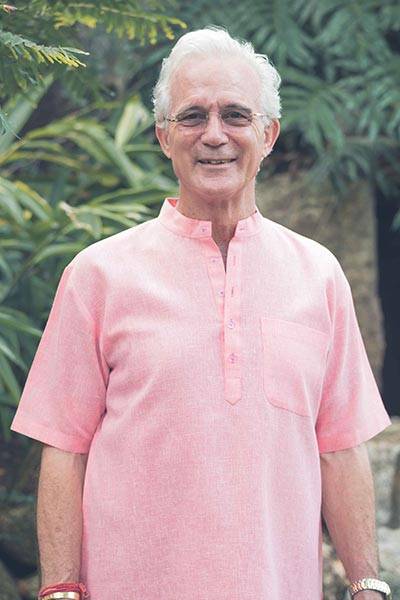 John was introduced to Asian philosophy and spirituality at the age of 15. Intrigued and eager to experience the world, he left home at age 16. After seven years in North America and Europe, he eventually arrived in India and met his teacher at a remote Himalayan community, where he spent the next 16 years.

John spent his first year in India living in a cave beside a river. During this year and the following 15, he embraced a traditional yogi lifestyle that taught him the values of truth, simplicity, love and 'sanatana' (eternal) dharma, and developed qualities of patience and discipline. While in India, he helped to build schools and hospitals in Indian communities and set up small local businesses in Kathmandu. John's instinctive ability to recognize authenticity, which was honed during the time with his master, was the foundation for the initial stage of John's post-ashram life. After he left the ashram in 1993, he became a successful art dealer and settled for some years in Kathmandu.

John's defining view of business as a medium of cultural exchange, worthy only of projects that 'make a difference', is central to Kamalaya's creation. Kamalaya unfolds from a learned truth – that happiness comes from giving – and combines John's wish to both communicate spiritual teachings in a way that is easily understood, and share with others the healing power of nature and the joy of community.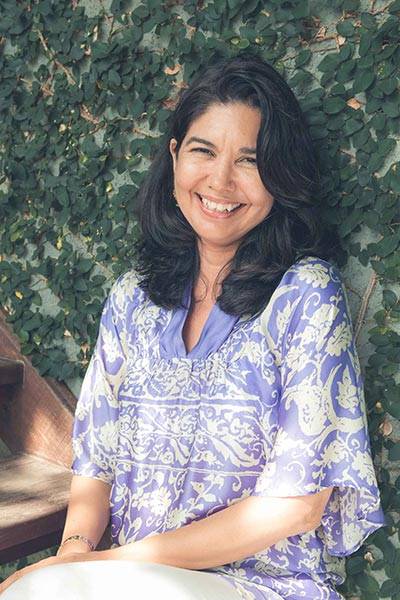 Founder & Chief Wellness Director
Karina Stewart, Master of Acupuncture and Traditional Chinese medicine (MATCM) is committed to creating anenvironment where healing and harmonious transformation can flourish. Born and raised in Mexico until she was 15 years old, Karina's life journey has been greatly influenced by her mother's interest in natural healing and meditation, yoga and Asian spiritual philosophies. Much like her future husband John, Karina's inner yearnings during her adolescent years were in sharp contrast to the cultural norms of her environment. From the age of 14, when she began meditating and exploring Asian spiritual philosophies, her heart was opened to an existence of devotion and self-discovery.
With a naturally passionate character and a fearless desire to live authentically, Karina and her family headed for San Antonio at age 15 to continue her studies. She later went to Princeton University and completed a B.A. in Cultural Anthropology with a focus on Asian religions. It was during her Princeton years that Karina first met John, when she took a year sabbatical to immerse herself in a meditation retreat under the tutelage of the same Himalayan yogi master.
After completing her degree at Princeton, Karina's fascination with the East and passion for health led her to California's Yo San University, where she gained a Master's degree in Traditional Chinese Medicine followed by internships in Japan and China. Her training extends to structural therapies such as Hellerwork and Cranial-Sacral Manipulation, yoga and Taoist philosophy and practice.
Karina's life experiences and her training and study of Asian healing traditions and philosophies are evident in Kamalaya's integral wellness approach.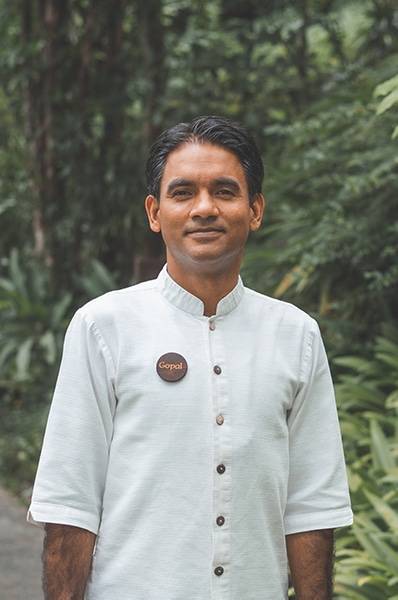 General Manager & Director of Wellness Development
Gopal Kumar, has been with Kamalaya since 2017. Gopal holds qualifications in wellness and hospitality from renowned universities across the globe including an MBA in Hotel Management, a Dual Bachelorette in Holistic Health Management and a Nutrition Diploma from The London School of Yoga.
He now has over 22 years experience in senior roles with many luxury brands. His expertise in both hospitality and wellness makes his a valued perspective in the industry, serving as a judge for the Wellness & Spa awards and participating as a speaker at several global wellness summits.
Gopal's vision for wellness is to provide services that can support anyone to achieve their optimal state of health and balance. He believes that wellness is best when it is truly holistic; nourishing individuals physically, emotionally and spiritually, and he is proud to oversee a dedicated team of expert practitioners at Kamalaya who are able to deliver wellness at this level.
Gopal is delighted that through Kamalaya Connect we will be able to offer many of our unique services to guests in a time and place that is comfortable for them. Guests will be able to retain their valuable connection with Kamalaya and continue their wellness journey with our support, to achieve better results.
Across the years Kamalaya has established a strong community of hosts and guests, many of whom return to our wellness sanctuary in Koh Samui year on year. Gopal sees listening, to both his team and our guests, as an essential part of his leadership and intends to bring this strength to Kamalaya Connect to ensure the sense of connection and community remains just strong across this new digital platform.
OUR TEAM OF WELLNESS EXPERTS
JYOTI
Yoga & Pranayama teacher
KATE
NATUROPATH, HOMOEOPATH & HOLISTIC
MIC
Physiotherapy Operations Manager